A perfumer by trade like his father, Fahiym Hanna credits his father as being integral in learning to run a successful business. Thanks to his father's tutelage, in 2006 Hanna opened a second location of the family business in Greensboro, NC. With the business profits and time off, Hanna has led local community efforts, creating The Hive Community Center, The Sunflower Center community garden, and affordable collective housing. In addition, Hanna has orchestrated dozens of protests against police brutality, economic and housing injustice and has led calls demanding accountability from local politicians. Hanna was integral in Greensboro's campaign to raise the minimum wage.
As a policy maker, Fahiym Hanna developed The Essential Worker's Model, a program creating access to basic human needs and regenerative self-determination. In 2018 and 2020 Hanna ran on this platform for Guilford County's Board of Commissioners to represent District 8 of NC. Hanna is currently teaching community members the guiding principles that are behind The Essential Worker's Model and the many other projects he has led.
Fahiym has developed his titular model Soul's Freedom from the interpretations of his long-time indigenenous practices. These practices are rarely shared outside of his immediate community, are derived from an intentionally nameless shamanic order of monks from Mali Africa, and have been present in the southern bio-regions of the United States since the 1800s. In 2018 Fahiym was given permission/rights to continue to develop the curriculum and teachings from the shamanic order of monks. These teachings center on contemplations of freedom and attraction. Fahiym's Patreon page affords him the time to pioneer a respectful means of disseminating the teachings to a larger audience and the resource to establish a monastery/Freedom School.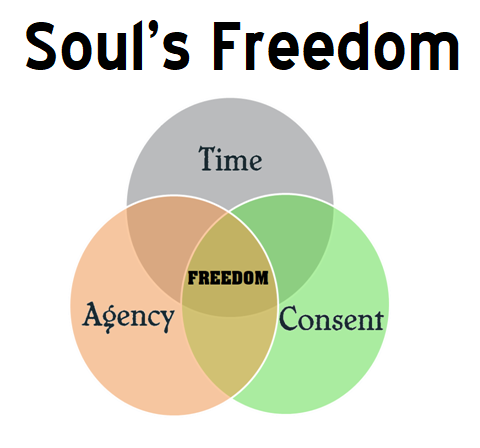 When compared to other modalities of freedom such as freedom is not free (which is a call to fight for autonomy or take autonomy from others); Or freedom as a gift/something givable (from the ruling class, masters or violent colonizers): the expression of such freedom is legitimate only if one can paradoxically demonstrate a measure of coercive self-regulation in its exercise. Soul City Rising was deliberate to create a modalities that minimizes harms and externalities. Soul's Freedom, a model for an individual's freedom within the context of society. It's comprised of three elements that make up the whole. This diagram illustrates an individual's inherent freedom and how its three elements overlap. Please refer to this diagram
The first element is an individual's Time:
The literal time each person spends awake and devoted to themselves/their own agenda. This may include time spent pursuing passions, creating art or crafting something for themselves, being with friends and family, and self-care. On the diagram, the number of hours of the day an individual spends on someone else's agenda, moves them further from the center (freedom).
The second element is Agency:
When an individual already has all of their basic needs (sleep, food, water, shelter and security) met, they have space for other thoughts, ideas, and feelings: their agency. An individual's ability to make decisions for themselves can be obscured and held back by the necessity of securing their basic needs.
The third element is Informed Consent:
The ability for an individual to make choices in order to pursue life, liberty and happiness, including, but not limited to: occupation/work, decisions regarding personal relationships, religious practice, and health. Because education is often absent in decision-making processes that appear to be consensual, Informed Consent includes the ability to make these decisions based on transparent information and full knowledge of: 1.the positive and negative consequences in making a decision, 2. the option not to have to make a decision or 3. the option to decide on something other than what is initially offered.
This freedom is for you to have, This freedom is for others to have and this freedom is not to be taken away from each other. We are aware Soul's Freedom is not always possible in all the places we come from. But the strength of our migration is hinged on the culture of practicing Soul's Freedom leading up to the migration and how well we can integrate it into our new township will be a testimony of our success.